Samsung Changes the QLED Landscape
What does a company do when they are behind on a technology they have been working on for a decade? Hire a world-renown expert professor of course!
Samsung has recently hired away professor Changhee Lee from Seoul National University to become a VP of Research according to an article on the Korean online news outlet Digital Chosun. I have confirmed via personal communication tha Professor Lee will be starting as an Executive Vice President at Samsung Display on September 1, 2018.
The move comes at a time when the QLED/OLED battle remains intense, with both technologies vying for the top spot in high end displays. Samsung is doubling down on QLED as evidenced by the amount of effort and money they have put into R&D and marketing the QLED brand, and are sticking to their decision to abandon OLED TVs which they made years ago. Winning the premium TV market (5% by sales) is vital to the bottom line because of the massive impact on profit (40%).
The Chosun article referenced competition from China as a driving force for Professor Lee's decision to move to Samsung. Apparently, in an email to colleagues, Lee stated:
"It is urgent to develop the next-generation QLED display, especially in the crisis of the Korean display industry, where China is rapidly catching up." Translated from Chosun article.
It's clear Samsung (and therefore South Korea) are concerned about maintaining their competitive advantage in the world of QLED displays. Chinese companies like TCL have been very public about their progress on EL-QLED displays, showing off AM-QLED progress at various tradeshows and conferences in the past year. It's worth noting that the AM-QLED displays demonstrated were all based on CdSe technology (you can read my review of the QD Forum 2018 here which discusses progress in the area of QLED technology).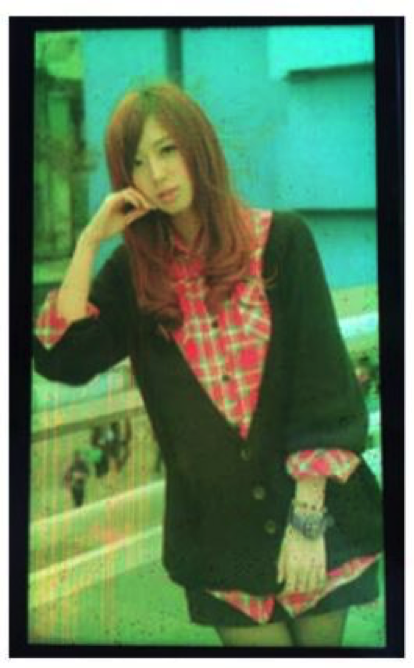 During his talk, Professor Lee also highlighted the well-known issue of long-term stability – a problem that has no clear solution as of yet. While there has been significant progress in stability of CdSe-based EL-QLED devices (especially red), the progress for InP has, to this point, been disappointing. Most devices are so unstable that lifetime is rarely reported and is commonly less than 1 day.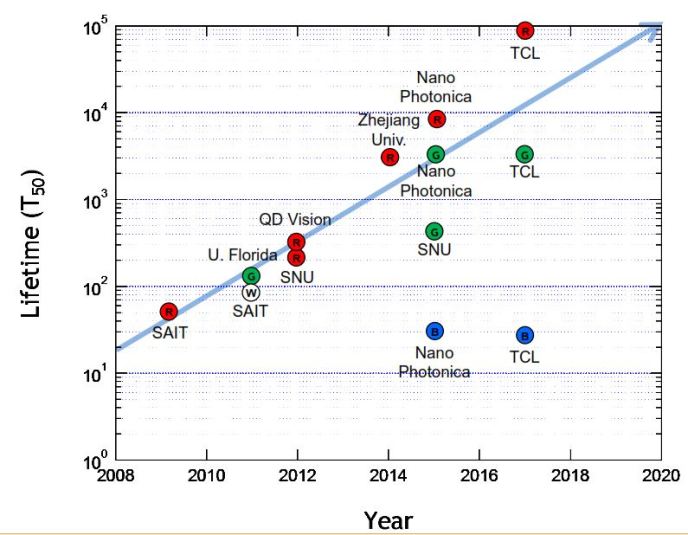 Two important things to point out here. First, notice that SAIT (Samsung Advanced Institute of Technology) doesn't show up after 2011? Could it be that they have fallen behind all of the others? Or just that they are remaining quite about their progress? Secondly, the two SNU data points can be credited, in part, to Professor Lee's group at SNU. Clearly his work is recognized along with the likes of companies large and small working on EL-QLED technology.
It will be interesting to see the impact Professor Lee will have on Samsung's EL-QLED technology. Probably we won't really know given how secretive they tend to be about their progress. Certainly, he has the credentials, with a long and decorated career in the field of EL-QLED devices. It's a bet Samsung is making to boost their efforts in this area, and I wouldn't be surprised if this is only the tip of the iceburg, with Lee building a strong EL-QLED team under his wings. In his new position as EVP, he will surely have the opportunity to impact more than just their QLED technology. Chances are we'll see other form factors of QDs before EL-QLED becomes a reality. Only time will tell if this hire is the push that Samsung needs to get their EL-QLED technology to the finish line.
Thanks for reading, I would love to hear your thoughts!
This article originally appeared on DisplayDaily.

Sign up for news, blogs, and general insight from Palomaki Consulting
READY to make BIG
THINGS HAPPEN?
get in touch